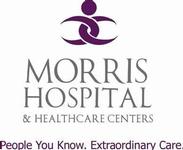 Morris Hospital and Healthcare Centers is known for its compassionate and personalized approach to healthcare. We are the only hospital in Grundy County, which covers a population of over 50,500 people. We're an independent, rural community hospital that's been in Grundy County and surrounding communities since 1906. We attribute our outstanding care to a dedicated team of over 200 physicians, along with more than 1,000 employees and 530 service and fundraising volunteers who feel privileged to have the opportunity to make a difference in the lives of their neighbors during some of life's most important moments.
Our commitment to improving the health of our community is also evident in the services we provide, many which aren't typically found in a community hospital setting. Some of these services include, but are not limited to, a Level II Trauma Center, Level II Perinatal Care, 3 Immediate Care Centers, Intensive Care (12 beds), Advanced Imaging Services with all digital mammography, 64-slice CT and 1.5T wide opening MRI, Cardiovascular and Pulmonary Rehab services, Certified Diabetes Education Center, Hospitalist program, free Patient Transportation Service, Radiation Therapy Center, Surgical Services and PT, OT, SLP Rehabilitation.

In addition to these services, we have 22 Satellite locations that serve the surrounding communities near Morris. Services vary by location and may include family medicine, internal medicine, pediatrics, endocrinology, immediate care, rheumatology, allergy, laboratory and other medical specialties.